Puzstel Storm

--- How to Play ---
Use the arrow keys to move the cursor and press Z to swap tiles.

Arrange the tiles to create matching groups of 3 or more.

After every 5th swap, the matching groups will break, awarding you 5 points per tile.


The remaining tiles will fall and new ones will enter from the top.
Chaining
If the falling tiles create a new matching group, a chain starts. A 2-chain is worth double points, and a 3-chain is triple points etc...

Egirls
Egirl tiles are worth 15 points each, so try to match them at the end of a chain for a huge score.
The first match in this chain scores +5 points per tile: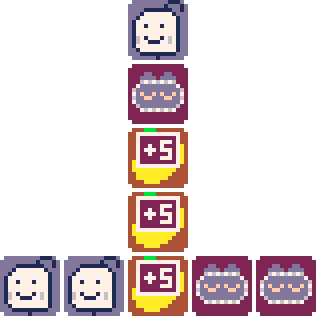 The second chain scores double, +10 per tile


The third chain scores triple, and egirls are 15 points each. 15 x 3 = 45 points per tile!


Here's an example of how to set up a long chain for a high score: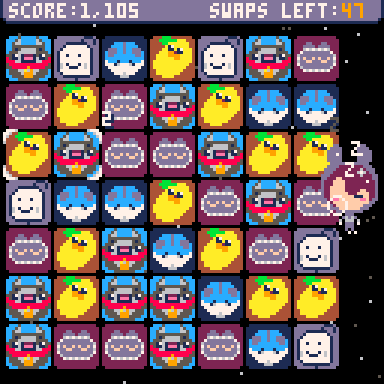 Game Modes
In Score Attack 100 Mode there is no time limit, instead there is a limited number of swaps per game, so take your time and plan your moves carefully.
In Caffeinated Mode you have only 3 minutes to play but can make as many swaps as you like... HOWEVER - the first match of a chain scores ZERO points in Caffeinated mode! You have to create a 2-chain or more to score any points!

--- Credits ---
Art - Pastel Stormveil & monoRAIL
Programming & music - monoRAIL
Beta testing - WooLuBu
Thanks to - Sour Walrus, Oyatsu, Lychee Sodapop
Made with Pico-8, Aseprite & Visual Studio Code
--- Competition Results ---
Here are the top 10 scores from the first Puzstel Storm competition, held in December 2022.

| | |
| --- | --- |
| Player | Score |
| 1. Aipacalypse | 6905 |
| 2. Oblivion Wings | 6475 |
| 3. Bento | 6265 |
| 4. Miss Squeaks | 6040 |
| 5. Vermillion Forest | 5920 |
| 6. Freedom | 5810 |
| 7. Maya Merlarn | 5760 |
| 8. Desty Nova | 5335 |
| 9. Sir Brent | 4930 |
| 10. Sour Walrus | 4735 |